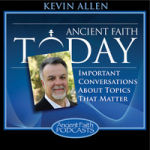 For Orthodox Christians Christmas is a problem. Western culture celebrates the Holy Days (what is left of them anyway) with parties leading up to that day. Orthodoxy sees the days leading up to the Holy Day as a period of ascetic struggle — an inward reorientation towards greater prayer, fasting, and caring for the poor.
To accomplish this our lives need structure. We conform our lives to a calendar where outward practices and disciplines helps foster the inward reorientation (see the essay "The Twelve Days of Christmas").
In the most recent podcast of Ancient Faith Today, host Kevin Allen discusses with Father Gregory Jensen, author of the book The Cure for Consumerism, the reason for the ascetic struggle for Orthodox Christians and offers some practical reasons for applying it in our lives.
Listen here:
Podcast courtesy of Ancient Faith Radio.

Fr. Gregory Jensen is author of "The Cure for Consumerism," a serious of monographs dealing with Orthodox Social Thought.
Despite the rapid increase in human flourishing since the onset of the Industrial Revolution, critics of the market economy insist that it leads inevitably to consumerism and other excesses of materialism. Those who make this indictment—including sociologists, political pundits, and religious leaders—also ignore how economic liberty has brought about one of the most remarkable achievements in human history: an 80 percent reduction in world poverty since 1970.
"The Cure for Consumerism" examines popular prescriptions for addressing consumerism that range from simply consuming less to completely overhauling our economic system. In this lively and accessible book, Rev. Gregory Jensen synthesizes insights from the spiritual tradition of the Eastern Orthodox Church with modern social science to craft a clear understanding of consumerism, to offer real solutions to the problems, and to put faith and economic freedom to work for both the common good and the kingdom of God.
Fr. Gregory Jensen blogs at the Palamas Institute for Orthodox Christian Pastoral Studies.