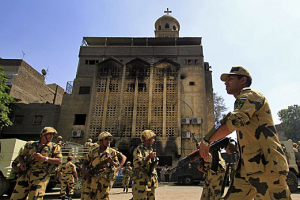 By Abbott Tryphon
Coptic is the Pharoes' name for "Egyptian," a little appreciated echo of the fact that all of Egypt was once a Coptic, Christian nation. For seven centuries Egypt was a Christian nation, until the Arab Islamic invasion in the seventh century.
When President Obama came to Cairo in 2009 for his first major speech on foreign affairs, he thought his charisma would be enough, as he attempted to appease the Islamists with his talk of America being their friend, all the while ignoring the plight of the Christians of the Middle East, who have been the bridge between the West and Arab cultures since the 17th century.
It was Coptic and Arab Christians who acted as translators of the greatest works of arts, literature, civilization, theater, and cinema, just as did Jews living in the Arab world. They made huge strides in bringing modern ideas, including democratic ideas, to the Islamic dominated world, but just as the Jews before them, Christians are now facing eviction from the Arab world, and this is not only a loss for the West but mostly for Arab Muslims. It is also a crime against humanity.
Scores of Christians are being consumed in the conflagration that is taking place in Egypt and Syria. In Egypt some Coptic Christians have been burned beyond recognition defending sixty some churches that have been burned to the ground, even as Ambassador Patterson continues her attempts at a reconciliation between the the Muslim Brotherhood conducting this devastation and the Egyptians who revolted against the Brotherhood's rule.
Once again the American administration attempts to ally itself against those fighting for a secular Arab world, with the odd philosophy in place that thinks we can appease the radical Muslims into actually liking us, all the while ignoring the fact that most Muslims living in these countries have had enough of radical Islam, and would prefer a secular state.
Egypt's fourteen million Christians, the original descendants of the pharaohs, are once again being singled out, while the American administration has aligned itself with their persecutors. Over the past fourteen centuries, Muslims invaders of Egypt have forcibly converted most of the population, except for those stubborn Coptic Christians who stood up to the persecution and threats, only to have America side with the militant Islamic Brotherhood.
This madness that has taken over the mind of the present American administration is beyond comprehension, but is also indicative of the long history of our failure to understand the Arab mind. Meanwhile, our Christian brothers and sisters throughout Egypt and the Middle East, are paying the price of America's greed for oil, power, and control. This philosophy of conquest has become our dominant foreign policy, while we ignore the long term consequences on the lives of fourteen million Coptic Christians.
Abbot Tryphon leads the All Merciful Savior Monastery in Vashon, Washinton.