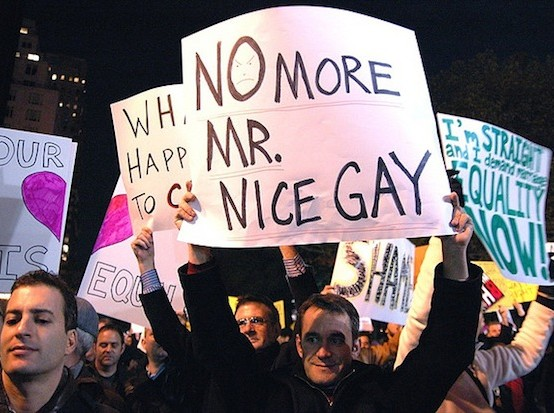 Rod Dreher wrote recently on the American Conservative (The New Battle Lines) that the next step in the domination of culture by progressive elites will be to punish anyone who does not affirm homosexuality. I agree with him. The battle against gay marriage is lost. In fact, the moral inversion of Christian culture is largely complete (gay rights represents it final phase) and orthodox Christians (those who hold to the authority of the Christian moral tradition) have been relegated to a sociological minority. We have become the strangers in a strange land.
Dreher's article approaches the question from a political angle and argues that the last bastion of any orthodox defense is the preservation of a conscience clause to protect those who disagree with the morality of the dominant culture. It's compelling but not one that I think will be successful in the end. A conscience clause draws from either religious sensibility or a more developed sense of natural law. One doesn't contradict the other of course, but in the former progressive ideology is fundamentally a moral reordering of society (inversion) that is necessarily intolerant of any competing truth claims, and the latter is usurped by a law governed by instinct and appetite — man is defined by what he feels.
I've argued for a while that gay rights will create the legal ground for the persecution of Christianity. It's here. Also here is the warning Christ gave over two millennia although contextualized for our time: "They will put you out of the synagogues. Yes, the time comes that whoever kills you will think that he is offering service to God" (John 16:2).

The New Battle Lines
Source: The American Conservative
By Rod Dreher
This just in on behalf of the Pacific School of Religion, a major liberal Protestant seminary:
BERKELEY, Calif., March 11, 2015 /PRNewswire-USNewswire/ — On April 16-17, the Center for Lesbian and Gay Studies in Religion and Ministry (CLGS) at Pacific School of Religion will host a symposium addressing the ways in which the concept of "religious liberty" is being used to justify and further discriminatory actions, such as denying service to same sex couples or limiting the reproductive health care benefits for employees. "Religious liberty should emphasize our freedoms — the right to worship, to self-expression — and should never be used as an excuse for discrimination against any group of people," states Dr. Bernard Schlager, executive director of CLGS and Dean of Pacific School of Religion.

The focus of the symposium will be to articulate a theologically-based and positive definition of religious liberty that explains why religious liberty should not be used as a license to discriminate. The symposium will also consider how the concept of religious liberty can be used to further religious pluralism in the United States.
This is the next step in the fight. It never was going to be enough for progressives to get gay marriage and discrimination against LGBTs outlawed except for within religious organizations. Now the push from progressive elites will be to tear down the wall protecting religious liberty to punish the wrongthinkers. If you don't think this is coming, you are a fool. The Law of Merited Impossibility is vindicated more and more each day.
Time to lawyer up with the Becket Fund and other religious liberty legal organizations. This is where the battle is now.
On the political front, Maggie Gallagher surveys recent LGBT-related threats to religious liberty, and says:
This is not an exhaustive list by any means, but it points to where I think the greatest threats lie: closing down educational and work opportunities to traditionalists who dare to speak. If the GOP would like to leave a legacy that makes a difference, I would argue for generous anti-discrimination protections for those who favor or oppose gay marriage (unless they work for an organization whose substantial purpose is to favor or oppose gay marriage).
[…]
Read the entire article on The American Conservative website.