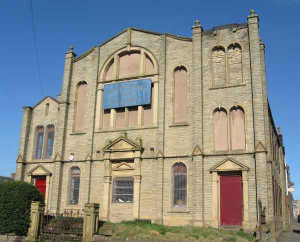 The complaint below about non-responsive priests and laity is accurate. But how do the non-responsives think people reach out to them? How do they think people react when their requests are ignored or rebuffed?
What is so hard about returning a phone call or setting up even a one page website?
Hint to priests who feel overwhelmed by the demands of their ministry and let items fall through the cracks: 1) Start reading Dn. Michael Hyatt's blog and implement his suggestions; and 2) read "Getting Things Done" by David Allen.
Productive work is a matter of good organization, and good organization helps you separate the wheat from the chaff in your ministry. Nurture the wheat, discard the chaff.

Source: Byzantine, TX
It is a surprise to few that priests don't answer emails. They also don't answer the phone. If you go to a church during the week they might well not answer the door. This is not true of all clergy, but it's true enough about many of them for me to be able to bring this up in Orthodox company and receive knowing nods of agreement.
This morning I read a comment from a priest that said:
Evangelistic methodology submitted for your consideration: Orthodoxy in America could be a lot bigger if all parishes would answer their phone, return phone and email messages within a day, and install doorbells prominently on the church.
I answered in the affirmative. When I travel, I often use the phone number and email provided by a parish's website to confirm service times. Having experienced the East Coast predisposition to change the Divine Liturgy time to "Summer Hours" without reflecting such on their website or diocesan directory listing, I always check first. Parishes move to new buildings (happened to me in Georgia), unmarked side doors are opened instead of the main doors for weekday services (in Philadelphia), being in-between priests allows for only monthly services (in Seattle), no one will open a locked door for you unless they know you're coming in advance to Matins (in Brooklyn). In short: check first.
The problem is that confirmations are hard to get. A few months back I emailed 2 weeks before a trip to confirm service times. I received an answer two months after I had returned from the conference. This is not an isolated incident, it might well be common enough to be considered the norm.
Leaving voicemails is not much more efficacious. For as often as I have had someone pick up the phone or call me back, I have had twice as many calls fade into the ether. It should also not be forgotten that not talking with some Slavic parish priests beforehand will ensure you will not be communed. I have visited parishes where such a requirement is in place and it doesn't take much imagination to grasp how disheartening it would be to be turned away from the chalice for want of a returned phone call.
[…]
A woman called a parish I used to attend to get some scheduling information:
Woman: "Father, what time will you be blessing the baskets?"
Priest: "Directly after the liturgy or maybe 15 minutes after."
Woman: "What time will that be? What time will you be done?"
The priest, knowing the woman was of the ilk to pop in to have some tradition fulfilled, but never actually came to the Liturgy, responded, "My dear, the Liturgy is eternal!"
My recollection is that she did not show up for the Paschal service or the basket blessing. The story, though, is a good cautionary tale regardless.

Read the entire article on the Byzantine, TX website (new window will open).