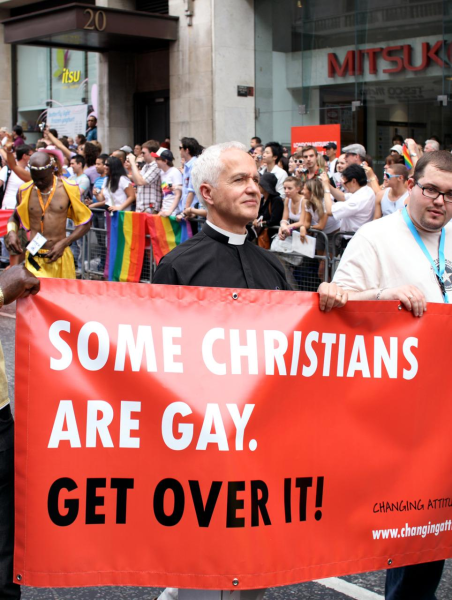 Deacon Patrick Mitchell writes in the most recent issue of Touchstone Magazine that the "coming out" as "gay and Christian" creates an intractable problem for churches.
"Gay and Christian" advocates argue are no longer mutually exclusive terms. This is a complex issue but it boils down to this: Is same-sex attraction a breakage of sorts within the human person, or is it a a fixed state of being? Is same-sex attraction hardwired in a person's being by either God or biology as something not transitory and can never change?
Furthermore, if same-sex attraction is indeed a fixed state of being and hardwired into a person's biological or genetic makeup, then is self-identifying as "gay" legitimate and even necessary for the person experiencing same-sex attraction? Yes, the advocates contend. Self-identification as homosexual is vital for psycho/spiritual health and well-being. The term "Gay Christian" in other words contains no contradiction.
This debate has been brewing for several years but only recently came into view with a book published by Eve Tushnet Gay and Catholic: Accepting My Sexuality, Finding Community, Living My Faith
and in a recent essay in the American Conservative. Tushnet writes:
As the gay movement has enjoyed remarkable success, a new kind of coming out is occurring, in which gay or same-sex attracted Christians openly discuss both our sexual orientation and our desire to live according to the historic teaching of the Christian church, which bars sexual activity outside marriage of one man and one woman. As gay Christians—an unavoidably reductive term—come out, our presence is changing the culture of our churches.
Tushnet's assertion that "Gay Christian" is an "unavoidably reductive" term is of course open to question and one that Mitchell challenges in his essay for the reasons stated above: The self-identification of Gay and Christian has at the core assumptions about the human person not in accord with Christian anthropology. Put more simply, to argue that same-sex attraction is hardwired into a person in the same way that opposite attraction is and that homosexual desire is should be a core component of self-identity and self-understanding, posits the human person as something other than what he really is. This view, if widely adopted, will have grave ramifications for Church and culture.
Mitchell elaborates:
The first problem is the term "gay Christian," which can mean either kind of gay—the professed Christian who lives gay or the professed gay who lives Christian. This ambiguity complicates the discourse, causing considerable uncertainty about how each self-styled "gay Christian" sees himself or herself and about what his or her public plea for acceptance might entail for other Christians. Since those who call themselves "gay Christians" differ greatly in what they mean and want, traditional Christians are justified in objecting to the term on the grounds that it is likely to cause misunderstanding and lead people to presume that it approves more than it should.

The ambiguity of "gay Christian" also hints at a more serious problem, one that challenges fundamental Christian beliefs about sin and human nature. Despite their different lifestyles, both kinds of self-styled "gay Christians" see gayness as so much a part of who they are that they have no choice but to admit it and embrace it. One embraces it by indulgence, the other by abstinence, but both believe they can be nothing but "gay," and this belief separates them from those Christians who suffer same-sex attraction yet do not identify as "gay" and strive instead to live heterosexually as much as possible in the hope of escaping the attraction. The "gay Christian" harbors no such hope, as Tushnet's diminishment of the "ex-gay narrative" shows. He therefore resigns himself to living with his homosexuality, inviting others to accept it as his personal norm. "I'm gay," he says, "so stop expecting me to marry."

Therein lies the problem, for the sexual attraction of men for men and of women for women cannot be said by Christians to be in any sense normal or "authentic" without corrupting Christianity's understanding of human nature. Traditional Christianity has always taken a fundamentally positive view of human nature, believing that God did not make man to sin; that sin is therefore not natural to him but something he introduced on his own; and that, although the first sin made sinning easier by alienating man from God, human nature, even in the fallen world, is still not naturally sinful. The proof of this is the Incarnation, in which the Son's assumption of human nature demonstrates that nothing naturally human is unworthy of God and that when reunited with God, man, too, can live sinlessly and even divinely, like Christ. Healing is therefore always possible through Christ to those who believe.
Again, the topic is complex (any discussion about human sexuality usually is) and any response has to be offered with a healthy dose of self-restraint. But the topic raises questions that require answers deeper than those drawn from the storehouse of popular polemics. Dn. Mitchell offers a thoughtful and measured beginning.
What do you think?
You can read Deacon Mitchell's complete essay on the Touchstone website.