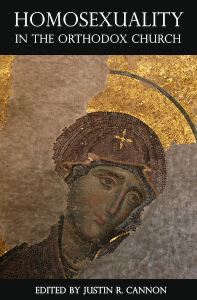 From the Press Release:
12/2/2011
Controversial Book 'Homosexuality in the Orthodox Church' Published; Editor Justin R. Cannon Says Constant Focus on 'Sex' and 'Sin' Misguided
Newly-published book "Homosexuality in the Orthodox Church" offers a brief overview of the experience of gay, lesbian, bisexual, and trans Christians in the life of the Orthodox Church, including personal testimony and a Bible study.
SAN FRANCISCO, CA, February 12, 2011 /24-7PressRelease/ — "Too often the discussion around homosexuality in the Church focuses on sin, when the real question before us should be: How can the Church faithfully minister to and love homosexual Orthodox Christians?" These words are found in the preface to the recently published book Homosexuality in the Orthodox Church (ISBN 978-1456416874), now available on Amazon.com. Editor Justin R. Cannon believes that most conversations about homosexuality are misguided because they reduce people, lives, stories, and struggles to two issues: sin and sex. "This is not just about sex–it's about people, relationships, love, and that core human longing for companionship," explains Cannon. "Often it is not until the 'issue' is given a face and someone's close family member or dearest friend comes out that hearts and lives are changed. This is not about an act, but about people."
Cannon points out that most mainstream Christian denominations–even Roman Catholics with their ministry Dignity USA–have at least one gay-affirming group. But such is not the case with Orthodox Christianity. "The conversation concerning the full inclusion of gays and lesbians in the Orthodox Church has not started in the same way it has in the Roman, Anglican, and Protestant churches. While many localized Orthodox jurisdictions teach that practicing homosexuality is a sin, this teaching has not been ecumenically affirmed within the Orthodox Church," states Cannon.
According his website, this book offers "a glimpse into the life, witness, history, and struggle of Eastern Orthodox Christians who happen to be homosexual." Cannon identifies three ways that priests handle their congregants who are gay and partnered: 1) they just don't talk about it and maintain a 'Don't Ask Don't Tell' policy, 2) They kick them out of the Church, or 3) They are embraced and welcomed to be full members of the community. "The frequency of these different responses is probably in that exact order," he comments.
This 116-page tome is one of a kind–purportedly the very first book about homosexuality in the Orthodox Church that challenges the status quo belief that same-sex relationships are sinful. The book includes four accounts by Orthodox Christians and family members, an essay by a Ukrainian bishop, a history of a group called Axios (which served gay Orthodox Christians), a brief Bible study, and a list of further resources. Copies of the book are available for $12 through Amazon.com at http://www.amazon.com/gp/product/1456416871.
In the book's Preface, Cannon writes, "It is my prayer that this anthology will open up dialogue and discussion within the Orthodox Church about the struggles, stories, and witness of lesbian, gay, bisexual, and transgender Orthodox Christians, and those who love them."
Inclusive Orthodoxy is a Christian ministry which teaches that the Church must be inclusive of all faithful believers regardless of race, ethnicity, sex, gender, gender identity, or sexual orientation, while also holding firm to the authority of Scripture and Tradition. More information is available at www.inclusiveorthodoxy.org.
Press release service and press release distribution provided by http://www.24-7pressrelease.com