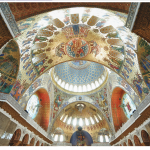 Below are some pictures of the consecration of St. Nicholas Cathedral in Kronstadt, Russia. A window to heaven has opened and the harmony of the unseen and uncreated are made visible to man. The Church is nothing short of astonishing.
The only other place I have seen such depth of beauty outside of nature is in the iconography of the new chapel in Ossios Lukas monastery in Greece. There the icons possess an ethereal but ordered brilliance that reflects the harmony that must have existed at the beginning of creation and points to its final restoration; a non-material and dynamic logic that infuses all created things and establishes their material limits and governs their workings. I see the same revelation here.
Harmony is revealed through art. If art touches that non-material logic, the pulse that runs through all things like the steady note that rings off the tuning fork, the divine is discerned and the soul is elevated and nourished. If art rebels against harmony and order, the soul is darkened, knowledge is lost, and hope dies.
First, the photographs, then the Google translation (choppy but still understandable) from the Russian text. More photos are available at Православие и мир.
HT: Byzantine, TX (one of the most informative Orthodox sites on the web). Click photos to enlarge.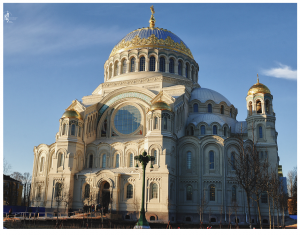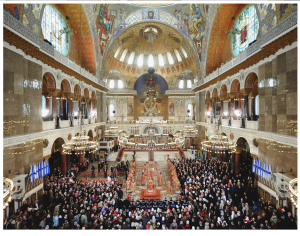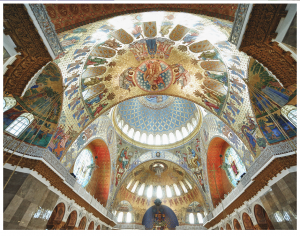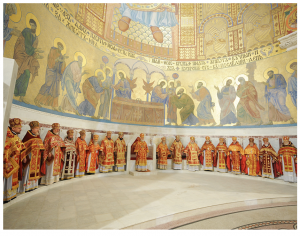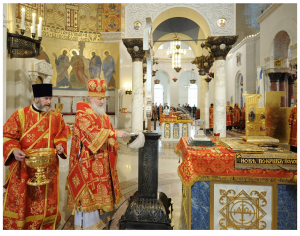 Video of the consecration.

Source: Православие.Ru
Google Translation:
April 19, 2012, Thursday, Bright Week, the Holy Patriarch of Moscow and All Russia Kirill performed the rite of consecration of small Kronstadt Naval Cathedral of St Nicholas, and then headed the ministry in the church liturgy, transfers Patriarchal.

At the service sang the chorus of St. Isaac's Cathedral, St. Petersburg (choir director Lev Danube).

By the visit of His Holiness the unique interiors have been recreated Nicholas Naval Cathedral, as well as original sketches made on the subjects of church utensils – censers, tabernacles, Eucharistic vessels, altar Gospel used in the Patriarchal liturgy.

Temple could not accommodate everyone, and for many residents of the Kronstadt sailors and the service was broadcast on screens installed in Anchor Square near the Cathedral.

At the end of the Liturgy of His Holiness appealed to the faithful with the primatial word, and then handed the award a number of high church officials, particularly labored in the rebuilding of the temple of naval glory.

As a gift to St. Nicholas Cathedral of the Russian Church Primate conveyed the icon of "The Baptism of Russia."

After the service, His Holiness Patriarch Kirill and President of the DA Medvedev visited the baptismal (lower) Church of St.. John of Rila, where candles were lit before the icon of the Resurrection of Christ, and then climbed to the upper temple, where they examined the crash site of German shells, left neotrestavrirovannym in memory of the Great Patriotic War. President of Russia and head of the Russian Church, candles to set the image of the Mother of God and the temple icon of St. Nicholas, which was donated to the cathedral by the President.

After visiting the Cathedral of St. Nicholas D. Medvedev and Patriarch Kirill headed to the Anchor Square, which sent a congratulatory words to the High Command and the Russian Navy sailors, residents and visitors of Kronstadt.

Next, a reception was held, at the conclusion of which His Holiness has announced its decision on awarding Nikolsky Kronstadt Naval Cathedral stavropigialny status. Archpastoral care about the current activities of the cathedral – the liturgical life, educational, social, cultural work – was entrusted to Metropolitan Vladimir of St Petersburg. "So we, on the one hand, we give Stavropighial, the highest status of the church, on the other hand, do not tear off from the real life of the Church of St. Petersburg", – said the Primate.

With the blessing of His Holiness the liturgy in the cathedral will be performed weekly: Saturdays, Sundays and days of religious holidays, and in the future – every day. The full blessing of St. Nicholas Naval Cathedral is planned to make in 2013 – the 100th anniversary of the consecration of the first temple.

The Primate of the Russian Orthodox Church said that at one time in the cathedral choir sang only the sailors, and expressed the hope that in our days Chorus Baltic Fleet will participate in the most solemn services, just as the Kuban Cossacks Choir accompanied by the Patriarch of worship in the Krasnodar region.

Philanthropists and leaders of contracting organizations who took part in the restoration of the cathedral, were presented to the Patriarch, and state awards.

The same day, His Holiness departed from St. Petersburg to Moscow.

April 20, 2012