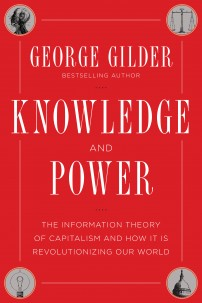 My review of Gilder's book published by the Acton Institute follows these preliminary comments.
I believe that the book Knowledge and Power: The Information Theory of Capitalism and How it is Revolutionizing our World is indeed revolutionary. Author George Gilder is first an economist so this book, which he sees as the culmination of his life's work (Gilder also wrote Wealth and Poverty), is appropriately about economics.
But it is much more. Gilder draws on information theory and posits that information, not chemical and physical processes are the ground of epistemology. What does that mean in plain English? Simply this: science itself is discovering that knowledge can not be circumscribed by what we can see and measure; that much more can be known about the world beyond the measurements of the world's material properties (the chemical and physical processes of things).
This is astounding for for two reasons. The first is that it corresponds to what St. Maximos the Confessor taught back in the seventh century, that below the material appearance of things existed what he called logoi, the ever present resultant energy of the word that was first spoken at creation and that brought the world into existence. This logoi is energy, hierarchical and even has a personal character.
The second is that, if correct (and science itself will confirm it), it strikes the death blow to Darwininian evolution (single source theory — all living organisms evolved from a single source) by undermining the philosophical materialism (only matter has concrete existence) on which the Darwininian hypothesis stands. If the random universe (a philosophical, not scientific, claim) that makes random mutation and natural selection viable as an explanation for the complexity and interrelatedness of all matter and beings within the world is undermined, Darwin falls. Put another way, if information does indeed exist below, behind, and within matter, than a random universe is impossible because information is necessarily hierarchical. The Darwinian hypothesis will be seen for what it is: a theory of progress hamstrung by its insistence that only matter has any real existence.
Gilder does not delve into these philosophical implications but it is clear that he is aware of them. There are times when he answers his critics by pointing out their reliance on what he calls the "materialist superstition." By this he means that our thinking has been so influenced by Darwin, Freud, and Marx that we reflexively assume that there is no other way to think. We are driven by materialist assumptions much more than we know.
I believe this book is a game changer, one of those rare books that comes along maybe every few decades or more that really has the potential to change how people view the world. It's clear that the materialist assumptions that directed thinking for almost two-hundred years is eroding. Of the three great prophets of philosophical materialism, Freud has fallen, Marx has fallen, and it is a cultural certainty in my view that Darwin will fall as well. It is just a matter of time.
One other point. If Gilder is indeed correct, then we also have to deal with his assertion that the discovery of information, the "surprise" that works hand in hand with human creativity and risk (read the book), posits not only an informational universe, but one that is also benevolent. The world, it seems, was indeed made for man as Genesis (narrative*) revealed thousands of years ago.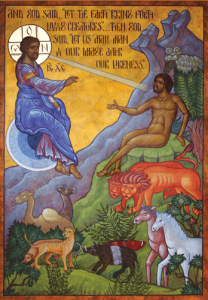 *Why narrative? Because if the epistemological ground of knowledge is indeed information (if logoi exists behind, above and interpenetrates matter to use St. Maximos' formulation), then it is decoded through language (math is a language). The decoded elements have to be referenced to a narrative — the story that provides a larger framework of meaning — in order to find their placement and thus meaning. The ancients were right, no sense can be made of the world without a creation narrative and every culture has one.
Looked at broadly, creation narratives are drawn from three religious/philosophical wells: polytheistic, monotheistic, and materialist. Of the three narratives, the one most lacking is the materialist given its almost exclusive dependence on the monotheistic narrative.
Linear time is the most evident borrowing. If the world was created ex-nihilo then time itself is a created entity, it has a beginning and an end — the philosophical assumption that makes the idea of progress possible. In the polytheistic narratives, the world came out of the stuff and substance of the gods, so time was perceived as eternal and thus circular. Linear time was a conceptual impossibility within the polytheistic narrative.

The materialist narrative ("Origin of the Species" functions as a creation story) blindly borrows the concept of linear time to make ideas like the big bang and progress comprehensible. The Darwinian narrative is merely the monotheist narrative stripped of any non-material agency, an assertion that requires a continuing denial of the existence of anything non-material including information. This is why dogmatic Darwinism cannot see this dimension of reality and why we see such resistance against this new way of appropriating knowledge.
This is also why some scientists who prefer science over dogma challenge the mechanism of progress posited within the materialist narrative, i.e: random mutation and natural selection. Using the newly developed tools of mathematics (probability theory and so forth), random mutation and natural selection are increasingly seen as a mathematical impossibility (see: Dissent from Darwin, click "Download the list").
The world is changing. It might be time to dust off that copy of St. Maximos the Confessor.

Information, Creativity, and Surprise
Source: Acton Institute | Rev. Johannes L. Jacobse
We are trained and educated to comprehend the operations of the universe in a materialistic way, where physical and chemical processes are assumed to be the deepest level of knowledge that can be acquired. George Gilder, disputes that in his new book
Knowledge and Power: The Information Theory of Capitalism and How it is Revolutionizing our World
. The universe, he writes, is actually a vast information system of unfathomable limits.
Ever since the rise of information theory in the 1940s, it is becoming increasingly clear that the universe is, in a sense, digital. Information, logic, data, whatever you want to call it, lies even deeper than the material operations that science has so ably discovered and quantified. This deeper informational dimension is dynamic and unpredictable. It is also how systems (biological, institutional, economic etc.) change and grow.
Gilder applies the principles of information theory to help us understand how economies grow. Known mostly for Wealth and Poverty, a book written over 30 years ago (earning him a reputation as "Ronald Reagan's most quoted economist"), Gilder lays out what he calls the sum of all his work: Information, not the management of processes, creates economic growth.
Gilder calls this the "information theory of capitalism" and it turns conventional thinking about free markets and statist economic theories on its head. Most of us think free marketers and statists are from opposite schools when in fact they are "fresh water and salt water" as Gilder calls them.
How so? Both share a vision in common: Markets are mechanical. This leads to an impoverished understanding of the role of the human person in economic expansion albeit to differing degrees. Think of their vision as Newtonian physics applied to economics; an illusion of determinism applied to human actions.
The universe, Gilder argues:
… is not subsiding like a steam engine or any other kind of machine … It is not constantly subsiding into thermal equilibrium. It is an engine of ideas, an information system, like an economy … (T)he universe is not statistical. It is a singularity full of detailed and improbable information. It is a "Super Surprise." … All the information for a random universe is equally applicable to one full of information and creativity.
Information is the unexpected "surprise" that when incorporated into the system creates growth and surplus value – wealth. The mechanistic assumption of many free marketers and most statists blinds one to the "surprise," the indication that new information has entered the system that contributes to its growth and expansion. Without new information systems perish (Xerox and Kodak for example). When new information enters the economy revolutionary growth is possible (Oracle, Qualcomm, Apple, Southwest Airlines for example).
The "surprise" depends exclusively on human agency because creativity comes from people, not from systems. It is indicated by the "I never saw that!" moment that defies all prediction and quantitative analysis because those tools only work in closed systems. If a system is closed, it cannot experience the "surprise," that infusion of new information that contributes to its survival and growth.
Those of us who work in a mission field, whether in a local parish or a Church-based poverty program, can immediately see how Gilder's insights carry the potential for a radical rethinking of how we do things. These insights call us back to the deep well of God-given creativity of the human person, who constantly "surprises" by smashing to pieces what we all thought were fixed, enduring systems and solutions.
Information, according to Gilder, is also highly entropic, another concept borrowed from information theory. This means that complex information cannot be easily contained although in order for the system to benefit it must eventually be brought in through what he calls simpler, low entropy carriers. Systems, in other words, are both high and low entropy thereby making stasis (the stability that gives rise to the legions of analysts that ostensibly predict future growth) the kiss of death.
The actor or agent of change that causes economic systems to grow is the entrepreneur, because the entrepreneur lives in the domain of "creativity and surprise," Gilder tells us. Creativity is therefore also a high entropy enterprise (the inflow of new information occurs within creative activity) although it requires low entropy systems in order to incorporate the new information into the system. Think of a phone conversation. The creativity occurs in the speaking, but the cables carrying the words (as digital data) have to work reliably in order for the information to be exchanged over any distance.
Gilder hits this hard. There is no economic growth apart from the entrepreneur because only the entrepreneur brings the new information into the economy. Growth then, is primarily supply side. That is, supply creates the demand or as Steve Jobs put it, "People don't know what they need until they see it." Further, economic growth is limitless because the universe, fundamentally an information system, provides an inexhaustible resource of new knowledge for anyone willing to take the creative risk.
The vision of dynamic and creative enterprise also has a moral dimension, Gilder argues. Socialism is reactionary in orientation. It assumes fixed systems and quantifiable outputs, all that we need to know is already known, demand precedes supply. Capitalism is by nature giving because the risk it assumes is uncertainty; no real knowledge or assurance exists in a world of "unfathomable complexity that requires constant efforts of initiative, sympathy, sympathy, discovery, and love." Socialism is deterministic, capitalism altruistic.
Knowledge and Power is a challenging read but easily one of the most creative and penetrating examinations of how wealth is created in a very long time. Its brilliance is framing human creativity outside of materialist conceptions of the human person. It makes the moral dimension of entrepreneurship more visible and thus easier to justify in this age of decreasing confidence in the virtues of business and wealth creation.
Gilder's book will prove to be a game-changer and maybe even a classic. The ideas are so new yet so compelling that they simply cannot be ignored. Keep a dictionary near by and use the glossary provided in the back. It will change not only the way you think about economics, but how you see the world.
An edited version of this article appears in the current edition of Religion & Liberty (Vol. 23, No. 3).