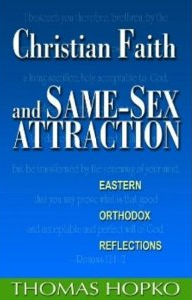 Fr. Thomas Hopko has done the Church a great service with his book "Christianity and Same-Sex Attraction argues Dn. Brian Patrick Mitchell, a Deacon in the Orthodox Church of America. He is faithful to the moral tradition, approaches the topic with compassion towards the person struggling with same-sex attraction, and teaches how struggling with the passion can become a means of sanctification and movement towards greater communion with Christ, and affirming the possibility that healing exists for the same-sex attracted person.
Alongside these strengths however, also lies weakness. Dn. Mitchell argues that Fr. Hopko has also inadvertently opened the door to activists within the Church who want to soften the prohibitions against homosexual behavior by positioning themselves "slightly left of Hopko." The weaknesses in Fr. Hopko's approach include 1) narrowing the categories of unacceptable homosexual behavior; 2) discouraging preaching and teaching that is offensive to homosexuals; and (3) condemning Christian resistance to the gay political agenda.
A portion of Dn. Mitchell's critique is posted below. You can read the complete article on the Brian Patrick Mitchell blog. As always, comments are welcome.

Source: Brian Patrick Mitchell blog | By Dn. Brian Patrick Mitchell
In the English-speaking Orthodox Christian world, there is hardly a man of his generation more deserving of the Western title "Doctor of the Church" than Protopresbyter Thomas Hopko, dean emeritus of St. Vladimir's Orthodox Theological Seminary in Crestwood, New York. In his many lectures, catechetical works, scholarly commentaries on controversial issues relating to sex and gender, and frequent podcasts on Ancient Faith Radio under the title "Speaking the Truth in Love," Fr. Hopko has demonstrated such broad knowledge of the Orthodox tradition, such keen insight into the subtleties and mysteries of the Orthodox faith, and such carefulness and clarity in expressing what he knows and thinks as to earn universal acceptance as the proto-pedagogue of the English-speaking Orthodox Church.
Yet despite strong traditional stands on key issues related to homosexuality, Hopko now represents the leftward limit of permissible opinion in the Orthodox Church on homosexuality, such that those who openly challenge the Church's teaching now describe themselves as slightly "left of Hopko." David Dunn, who openly declares himself a "pro-gay" Orthodox lay theologian, characterizes his own stand on gay marriage as "a quarter-step to the left" of Hopko. Dunn also writes in The Huffington Post that he began his "holy disobedience" against the Church on homosexuality after reading Hopko's 2006 book Christian Faith and Same-Sex Attraction. Applauding Dunn in an online comment, Rebecca Matovic, another well-known advocate of change in the Orthodox Church, claimed "there are many, many priests who think about these issues in a loving, pastoral way and increasingly find themselves moving to the 'left' of Hopko."
If Matovic is right, it would seem that Hopko has inadvertently positioned himself less as the gatekeeper of Orthodoxy than as the head usher for heresy. Indeed, both Hopko's recent public comments on homosexuality and his 2006 book have opened holes in the Church's defenses through which the Enemy is now shoving battalions of wrong ideas to confuse and confound the Church's defenders.
This is a shame, as there is much else that Hopko says that the Church's defenders could use. In Christian Faith and Same-Sex Attraction, Hopko summarily dismisses attempts to reinterpret Scripture and Tradition to make homosexuality acceptable. He writes that God does not make people homosexual; that people are not therefore naturally homosexual as they are naturally male or female, black or white, etc.; and that same-sex attraction is a result of man's rebellion against God. He calls homosexual sex a "betrayal" of the love God intends for His people, saying it can never express divine love because it is "incapable" of edifying souls the way heterosexual sex can. He likens acceptance of homosexuality today to the general madness famously prophesied by St. Anthony of the Great. (Saying 25: "A time is coming when men will go mad, and when they see someone who is not mad, they will attack him, saying, 'You are mad, you are not like us.'") He declares that "those who publicly affirm and promote homosexual behavior (like those who publicly advocate abortion) cannot be sacramental communicants in the Orthodox Church." He goes even further to state that those "openly propagating teachings and practices contrary to Orthodoxy" may be excluded not just from communion but "from church gatherings" to prevent harm done to others, especially the young.
Most controversially, Hopko suggests an understanding of homosexuality consistent with sexual orientation change efforts (SOCE), citing the work of British research psychologist and theologian Elizabeth Moberly, who theorizes that homosexuality is an attempt to "repair" a lack of childhood affection from persons of the same sex, especially parents. Hopko does not explicitly endorse "reparative therapy," the SOCE based on Moberly's theory, but he does explicitly endorse therapy "to deal with same-sex developmental issues that must be resolved for … emotional and spiritual healing." He also leaves open the possibility of sexual orientation change through therapy, saying in an endnote that Moberly "thinks that I can be more optimistic" about the possibility of change. It is for these reasons that Hopko's book bears a blurb from American psychologist Joseph Nicolosi, a leading advocate of SOCE, who in 2006 was president of the National Association for Research & Therapy of Homosexuality (NARTH), the organization gay activists most love to hate.
Yet these brave stands on key issues are undermined by Hopko's efforts to (1) narrow the category of unacceptable homosexual behavior, (2) discourage preaching and teaching offensive to homosexuals, and (3) condemn Christian resistance to the gay political agenda. Let's see how each of these faults appears in Hopko's book.
[…]
Read the entire article on Dn. Brian Patrick Mitchell blog.