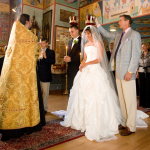 Is Same-Sex Marriage a Church vs State issue? Does the Church have anything to say to the larger culture about marriage? No, argues David J. Dunn, the author of an opinion piece that ran in the Huffington Post several months ago (Civil Unions by Another Name: An Eastern Orthodox Defense of Gay Marriage). Dunn argues that traditional marriage (one man and one woman) is a moral construct invented by the Church and thus applies only to Christian believers and not the larger culture. Let the Church be Church and the State be State.
On the other side is Fr. John Whiteford who argues that traditional marriage is not merely a moral construct invented by the Church, but exists in nature. Nature itself reveals the law of God; the natural order reveals the social context in which children are brought into the world. How so? Check out the biological plumbing. One man and one woman create a new child. Homosexual relationships on the other hand are naturally sterile, biologically closed to procreation. This reveals an intent and purpose that has its source in God. That's also why traditional marriage is practiced almost universally across all cultures and time.
Traditional marriage is blessed by God, even for the non-believer. If people live in accord with the law of God, even if that law is discerned only through the operations of nature, then they obey God. We should not erroneously conclude that no blessing exists merely because the marriage was not sanctified in the Church. To do so makes the same mistake Dunn makes but from the other direction. Natural marriage is as real as a sacramental marriage and should be honored and supported as such.
It is important for Christians to realize that Dunn's distinction between the natural and sacramental is artificial. Sacramental reality never negates nature. Rather, the sacraments elevate nature because natural operations become a means by which God's grace is imparted to us. Ritual purification by water becomes baptism for example. Anointing with oil becomes a means of healing. The transformed bread and wine maintain their capacity to nourish the body while becoming nourishment for the soul. Sacramental reality never, ever, negates the natural workings of the created order. Rather, those workings take on a divine dimension congruent with their natural function.
Finally, we hear that the State should have no interest in marriage and it would be better for everyone if the State removed itself from marriage questions entirely, even from establishing contract law around traditional marriage (libertarians are fond of this argument including the Orthodox variety). The problem with this argument is that State has an interest in cultural stability, or to put it more correctly, the culture has an interest in stability and thus grants the State authority to affirm those natural relationships in law. By decreeing that same-sex coupling is a morally legitimate marriage however, the State arrogates unto itself an authority that runs contrary to nature and proclaims itself as the source and arbiter of moral law. Under this scenario rights are not discerned in nature or, ultimately, seen as coming from God. Rather, rights emerge only from the will to power of the elites — those who pull the levers of State power. The moral barriers against tyranny are removed.
The program runs on Ancient Faith Radio (click link) starting at 8pm Eastern.

Addendum: While hunting for the link to Dunn's original article I came across this: My Year as a Pro-Gay 'Orthodox' Heretic. Somebody sent me the link to his blog posting (same content) but I had not idea it was published on HuffPo. The title is a bit misleading (I never called him a heretic) and the only argument I put forward so far are the ones I posted above: Dunn ignores natural law and has a skewed understanding of how the sacraments work. He should have given me a heads-up, but I will craft a fuller response this week sometime.