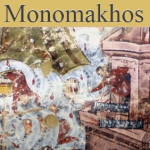 In a comment on the Monomakhos blog, I offered this prediction:
The romance with homosexualism can only last for so long — five years tops and we are in year one. In another two years public doubts will start to surface. In year four those doubts will start shaping into a consensus. In year five the waters of this tsunami will start to recede.

Why do I say this? Because nothing in the life-style is life affirming. All the energy of homosexuality comes from and is directed toward a void, an absence in the person that is also being projected into the social and institutional structures that are being formulated around it but remain to be built.

More simply, "Modern Family" is an illusion plain and simple. It cannot and will not be built. This is a personal and cultural impossibility.
One reader asked me to clarify the point:
I am not clear if when you say "homosexualism might weaken", if you mean in the general cultural or in the as a movement in the Orthodox Church (or both). In any case it made me think of Rod Dreher post from a few days ago:

It is a difficult post because of it's subject matter, but about half way down he talks about "The Nations" prediction for homosexualism in our country 21 years ago, and RC Fr. Richard Neuhaus' response. Like Dreher says, the Nation was more right than Neuhaus was. I have to say that it is my belief that homosexualism as a movement has more staying power in either the Orthodox Church or the general cultural than what you seem to imply here. This is simply due to the sentimental nature of our culturals morality, and I don't see any force that is changing that. Indeed, I don't think it has even peaked as a way of life let alone "run it's course". Perhaps I am not seeing certain counter forces that you are seeing?
Below is my clarification.

Christopher,
Sorry for this late reply.
Regarding the dominant culture: Since homosexuality has been effectively normalized, the fact that it has a hollow center will become apparent I think, largely through the social harm it will cause (homosexual couplings are not stable, abuse and addictions rates among homosexuals, pedophilia is predominantly homosexual, etc.). The illusions surrounding it will shatter.
Dreher is right (Nation yes, Neuhaus no) but those ideas were in play when homosexuality was still a Fire Island – Key West – San Francisco phenomena. (See: Midge Dector, The Boys on the Beach.)
Homosexual "culture" is a misnomer. It doesn't exist except as a parody of the natural order. It can only mimic what it sees but it won't be able to reproduce it. This is not merely an observation about biology (homosexual couplings are sterile). Biology also models deeper structures, and at the center of the deep structure of homosexuality is a vacuum (the absence of structure). The vacuum however contains an energy that is *always* deconstructive.
Homosexuality is directed toward extinction and it must deconstruct the culture built on the natural order for it to get there.
Homosexuals, in order to maintain a viable self-identity as homosexual, need a vigorous natural culture surrounding them. If the dominant culture begins to see homosexuality as a morally viable 'second way' within the natural order, it shows the dominant culture is weakening but it will also reveal the vacuum (the 'nothingness') at the center of homosexuality and the deconstructive energy it contains.
Gay INC has achieved a remarkable propaganda victory in the last decade. It consisted of convincing the elites that homosexual pairings are indeed a morally viable 'second way' but the idea of viable culture structures built around those pairings is still only a promise. The propaganda war is relentless ("Modern Family," "Will and Grace," Andrew Sullivan, etc.) and has been largely won. However, the attempt to subjugate the conquered ground will fail, I think. Again, the illusions (the ideas about normative family and culture structures projected into homosexual populations) will be revealed for what they are — illusions. The worst thing for Gay INC may be normalization.
So my prediction is based on the belief that the natural order will prevail in the end. This remains to be seen of course. If I am wrong, then it means we must prepare for cultural collapse.
Regarding the the efforts to normalize homosexuality in some parts of the Church, again the Episcopal Church experience is all we really need to know. Liberal Christians have been trailing the dominant culture by at least a decade for the last forty years. They call their lagging statements "prophetic" and other sorts of self-congratulatory nonsense, but only to quell their unease about not being taken seriously. They are being used to provide a religious imprimatur to Gay INC — a vestige of their former authority that still exists as part of the cultural memory but will disappear in short order — because they prefer the intoxication of acclaim over the sobriety of truth.
The language I hear by the enablers of Fr. Arida (as well as his own) is nothing more than the tired polemics of the last four decades that has been retooled for an Orthodox audience. There is no need to put up with it. Surreptitious attempts to subvert the moral tradition need to be exposed and stopped. On the other hand, if Fr. Arida's ideas prevail, then the OCA will collapse.