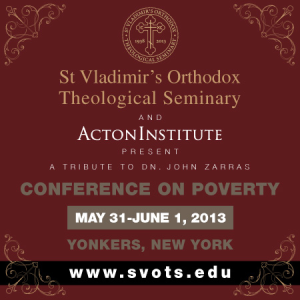 St. Vladimir's Conference on Poverty, May 31-June 1, 2013
Get details | Download flyer (pdf)
As iron sharpens iron, says the book of Proverbs, so a man sharpens the countenance of his friend. Remember that advice as the conference on poverty begins on May 31, 2013 at St. Vladimir's Seminary. The conference is led by the Acton Institute, arguably one of the most influential think tanks on religion and economics in the English speaking world. The conference is sponsored by the Zarras Foundation in honor of the late Dn. John Zarras, a devoted churchman, successful businessman, and member of the St. Vladimir's Board of Trustees.
Speakers at the conference include Jay Richards, author of Money, Greed, and God: Why Capitalism Is the Solution and Not the Problem and Senior Fellow at the Discovery Institute; Michael Matheson Miller, Acton Institute Research Fellow; and a Trustee of the Seminary, The Rev. Dr. Philip LeMasters, professor of Religion and Dean of the School of Social Sciences and Religion, McMurry University.
Rounding out a concluding panel discussion with the above speakers will be Dr. Antionios Kiriopoulos, SVOTS alumnus and officer in the National Council of Churches, along with SVOTS Trustee Dr. Nicholas Pandelidis and Subdeacon Paul Abernathy, local director of FOCUS North America, Pittsburgh, Pennsylvania, representing FOCUS North America.
The Acton scholars research the causes and cures of poverty in America and other parts of the world (see Poverty Cure). Acton roundly critiques big-government solutions (Great Society programs, foreign aid cash grants, etc.). Big government solutions can address short-term symptoms but they usually destroy the underlying economic infrastructure as well. Government largesse does not eliminate poverty. It merely institutionalizes poverty by eliminating the possibility for economic growth and mobility — a form of 21st century colonization in the Third World.
These ideas are compelling but the religious left resists them like Dracula avoids the cross. Progressive thinkers justify their economic ideas by drawing from the moral vocabulary of the Christian tradition but facts on the ground show that their ideas don't work. Give a man a fish and he eats for a day. Teach a man to fish and he eats for a lifetime. Create a market where a man can sell his extra fish and he can build a home and send his children to school.
St. Vladimir's deserves credit for hosting the conference given that a preponderance of Orthodox thinking on political and economic issues tends to drift leftward. This is one reason why the Orthodox contribution to contemporary culture has been relatively meager. Orthodox voices seldom rise above the amen chorus for the cultural left as we see with Orthodox involvement in the (dying) National Council of Churches for example. (Also see John Lomperis' article: Why Do Eastern Orthodox Churches Continue Enabling Opposition to Orthodox Values on Abortion, Sexual Morality?.)
Very often representatives from the religious left attempt to shut down rather than engage debate. Fortunately that has not happened here since an NCC representative has been invited to respond. As iron sharpens iron. . .
Russell Kirk said years ago that religion is the ground of culture. We are grateful to St. Vladimir's for its commitment to rigorous and open inquiry on these pressing cultural questions.
Acton Poverty Cure Video