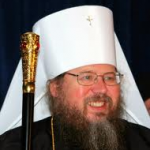 Apparently, a movement is gaining steam in the OCA to restore Metropolitan Jonah as evidenced by this video recently released on Youtube. To what position he should be restored isn't made clear but presumably it is Metropolitan of the OCA. This is an internal matter to the OCA of course and you can read more details on the Monomakhos blog. As before, I will not discuss the details about the OCA imbroglio here apart from those that impact the larger American Orthodox Church.
My immediate concern is the public slander Met. Jonah has had to endure, as well the shortsightedness towards his many gifts, particularly his ability to present the Orthodox faith to a larger American audience. I outlined these points in an essay I wrote a few weeks back. Unfortunately, I have seen good men slandered before as a way to justify bad administrative decisions from higher-ups. I will not sit silent when that happens.
What I find encouraging about the video is that the laity is finding its voice. We have good priests and good bishops in the Orthodox Church. In theory bishops are accountable to each other, in practice sometimes this breaks down. In those cases the laity has to speak up.

Video removed. After numerous (and thoughtful) complaints and crticisms, I decided to close the thread and remove the video. I'm not in the OCA and don't want to see the Observer become a forum for the internal OCA fight, and clearly I misjudged the meaning of the video.
Goes to show I guess that we should let our neighbors do their own laundry!
I'll leave the thread up by way of explanation but discussion is closed.