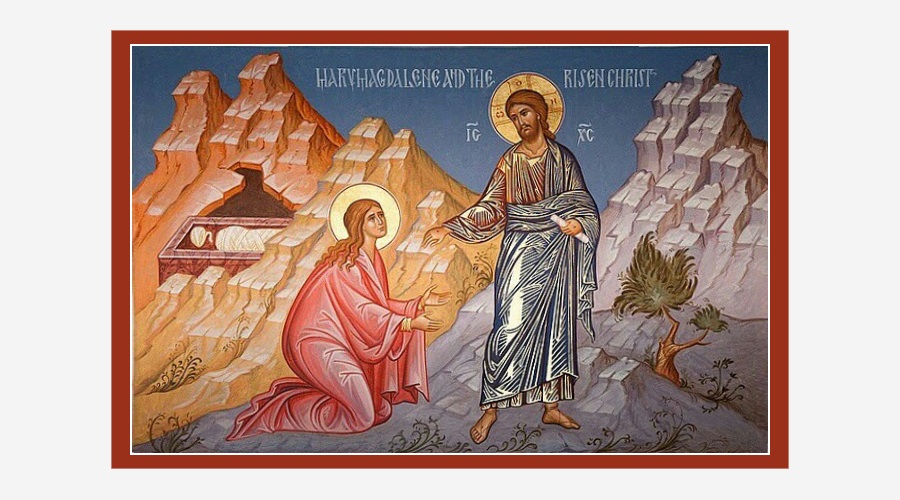 By Protodeacon Brian Patrick Mitchell
Advocates of the ordination of women as deaconesses have begun responding publicly to the public statement of opposition to deaconesses signed by over 50 clergymen and scholars and posted last month on the website of the American Orthodox Institute, where over 200 other Orthodox Christians, many of them also clergymen and scholars, have added their names. In time, we will no doubt see some well-researched, well-written rebuttals to the public statement, worthy of lengthy responses. But Paul Ladouceur's posting last week on Public Orthodoxy can be quickly and easily parried in a few brief paragraphs.
Half of Ladouceur's argument is the straw man that the "natural order" theory advanced by opponents of deaconesses involves "two opposing ontological principles, equality and subordination," which they have made "no attempt to reconcile" and which are incompatible with patristic teaching. This is a straw man because it's easy to knock down and doesn't actually represent the views of opponents of deaconesses. Who believes in the "ontological subordination" of women? No one I know in the Orthodox Church.
What the opponents of deaconesses believe in, and what the Church plainly teaches, is the economical subjection of women on account of the Fall, which, like the economical subjection of men to men, is decreed by God for our own good. The difference between ontological subordination and economical subjection is that the former is a matter of nature whereas the latter is a matter of law. The woman is not naturally inferior to the man, but she is obliged to submit to him for the greater good, just as men are obliged to submit to other men for the same reason—to keep people together and at peace.
Thus St. John Chrysostom says both, "For with us, indeed, the woman is reasonably subjected to the man, since equality of honor causeth contention," (Homily 26 on 1 Cor.) and also, "And from the beginning He made one sovereignty only, setting the man over the woman. [Gen. 3:16] But after our race ran headlong into extreme disorder, He appointed other sovereignties also, those of Masters, and those of Governors, and this too for love's sake." (Homily 34 on 1 Cor.)
Of economical subjection, Ladouceur says nothing, leaving his readers with only ontological equality justifying the rule of women over men in the Church and in the world. (For the patristic view of the natural and economical order of male and female see "The Problem with Hierarchy," "The Disappearing Deaconess," "Orthodox Deaconesses," and "The Danger of Deaconesses.")
The other half of Ladouceur's argument is a claim that opponents of deaconesses commit the logical fallacy known as "the slippery slope" or "the camel's nose" when warning that "women deacons will lead inexorably to a series of other unwanted changes in Orthodoxy." These are Ladouceur's words. Later, in developing this line of argument, Ladouceur lets his imagination run rampant. He writes:
Opponents of the ordination of women appeal to the inevitability of other changes which would ensue from the institution of women deacons in the Orthodox Church. These undesired downstream changes would include women priests, women bishops, acceptance of same-sex marriage, transgender confusion, LBGTQ2 priests, changes in the readings in marriage service, or in gender designations for God…
In fact, some public advocates of deaconesses have already shown their sympathy for some of these changes, but the public statement against deaconesses only warns: "Just as children who grow up in parishes with female readers are more likely to believe as adults that women should be deacons or deaconesses, so children who grow up in parishes with deaconesses will be more likely to believe as adults that women should be priests and bishops."
This warning is easily defensible for three reasons:
It warns of only a probable change in the thinking of some people as a result of making women deacons or deaconesses: People conditioned by the experience of growing up with women deacons or deaconesses would be "more likely" to think as Ladouceur does—that there is nothing wrong with women taking leading roles in the Church as in the world, preaching publicly and exercising authority over men as well as women, as priests and deacons do. The expectation of such a change is hardly unreasonable.
There is a principle at stake—the natural and economical order of the man and the woman, which makes the man responsible for leadership. This is the reason why the duties of deaconesses were always so severely limited. It is also the only reason found in the Fathers for excluding women from the priesthood. No modern defender of that exclusion has been able to come up with the better one. Imposing clergywomen upon the faithful would effectively repudiate the principle of the male headship, leaving us with only the lack of precedent as a defense against women as priests and bishops. Yet a lack of precedent unbacked by principle, and instead at odds with the new principle of gender equality, is unlikely to fare well in this day and age, even among the Orthodox.
Making women deacons or deaconesses will free the advocates of full equality for women, who already believe women should be priests, to begin pushing for the next step, using the similarity of deacons to priests to their advantage. This is a lesson from experience, not just in other churches but in the military as well, where feminists used the similarity of some "non-combat" jobs to some "combat" jobs to argue for letting women into more and more of the latter. (Read all about that here.) Ladouceur himself employs this tactic when he uses women choir directors and parish council presidents to argue that women already exercise authority over men and therefore ought also to be deacons. Once women become deacons, he could easily extend his argument to priests and bishops. The difference he neglects to acknowledge is that allowing women to direct choirs and head councils is a concession to human weakness, an irregularity forced on us in the fallen world, whereas the ordination of a deacon, priest, or bishop is a sacramental act acknowledging that a man's new rank is willed by God and in no way irregular. The Church may tolerate irregularity; she does not ordain it.
In sum, Ladouceur's charge that opponents of deaconesses commit the fallacy of the slippery slope when warning of where deaconesses might lead is itself a logical fallacy, the fallacy of faulty generalization, which merely uses the fact that some warnings of slippery slopes are fallacious to dismiss an welcome warning without proof of its fallaciousness.
Of other faults, nothing need be said, except that the only arguments Ladouceur makes in favor of deaconesses are that ontological equality justifies women ruling over men, that no fundamental matter of dogma is threatened by deaconesses, and that we had them once so we can have them again without starting down the slippery slope.
But when we had deaconesses, no one dared to teach against the natural and economical order of male and female, so settled was it in Scripture and Tradition, whereas today we have teachers who ignore Scripture and Tradition to teach only equality and mock the Orthodox for keeping the Faith of our Fathers.

Protodeacon Brian Patrick Mitchell is a doctoral student at the University of Winchester and the principal author of "A Public Statement on Orthodox Deaconesses by Concerned Clergy and Laity." His master's thesis on deaconesses is available here: "The Disappearing Deaconess: How the Hierarchical Ordering of Church Doomed the Female Diaconate."