Essays like Fr. Gregory Jensen's below, give me hope. It reveals the new thinking needed in American Orthodoxy, the kind that is thoughtful and responsibly self-critical. An excerpt is included below. You can read the full article on either the new and improved! Orthodoxy Today, or the AOI main page. (Click the pic for a full view of the image too.)
+++++++++++++++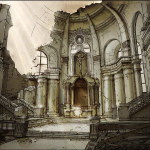 The Rejection of Tradition
On a post on my blog Koinoia ("An Editorial: Orthodoxy & the Public Square"), I wrote that whether or not I like Frank Schaeffer's politics or his moral theology, or whether or not his support of abortion and gay rights are compatible with the tradition of the Church, the reality is that he is well within the mainstream of current Orthodox opinion in America. According to the PEW survey, the majority of Orthodox laity agree that abortion and gay marriage should be legal.  It may surprise you, then, that the problem isn't Schaeffer – it's us; specifically, it's the clergy.  For reasons that are not entirely clear to me, we clergy are not effectively communicating the moral tradition of the Church to the laity.  Or, if we are, the laity aren't listening –- which would imply that the clergy are willing to tolerate the laity ignoring the Gospel.
We see the same prevalence of pro-choice, pro-gay marriage positions among Orthodox politicians.  This kind of a consistent pattern of belief does not just happen.  As in the Catholic Church, we see in the Orthodox Church evidence of a significant pastoral failing.  This appears to be more than just a widespread lack of sound moral education for the faithful.  It appears to be an embrace of, or at least resignation to, the influence of secularism in our parishes. 
This is a very serious problem.  This isn't a debate about the practices of potentially faithful followers – as can be the case when addressing, say, Old Calendar or New Calendar, or the issue of women wearing headscarves, or whether priests should have beards and wear cassocks, or whether we have pews or not, or whether to use an organ to lead the choir.  This goes much deeper – to the heart of Christian discipleship.  It seems that we have simply lost sight of the beauty and power of Christian virtue; perhaps worse, it seems that we have given over leadership to moral barbarians.
I know that sounds like a harsh judgment, but what else can one call it?  A barbarian isn't a bad person. A barbarian isn't likely to love his wife and children any less than you or I.  He isn't necessarily an atheist or polytheist.  In fact, many barbarians believed –- and believe — in Christ, though for the same reason that they believed in the old gods: to secure power for their people.
Read the full article on either Orthodoxy Today, or the American Orthodox Institute main page.