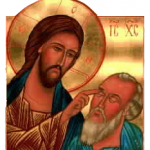 Yesterday (Saturday) was a good day. I got a call late Friday evening that one of my parishioners was in the hospital. I decided to visit him Saturday morning and after arriving at the hospital discovered his surgery was moved up and I missed him. I left him a note and decide to visit him later.
Later that day the Lord spoke. "Go back to the hospital." There's always a little give and take when that happens (I had things planned) but the Lord said again, "Go back to the hospital." I drove to the next exit, turned around, and headed back.
You never really know the reason for the command until you start doing what the Lord tells you to do. After obeying a few times however, you are confident enough to know that it is indeed God directing you and that something critical needs to be done. I got to the hospital, and just outside the door I saw Linda.
I didn't know her name then but she was sobbing. I looked at her and said, "Tell me what's wrong."
"It's my son," she said.
"How sick is he?" I asked.
"He had an overdose. He is only nineteen. I am so worried."
She gave me the details and I asked her, "Do you want me to go up his room and pray for him?"
"Would you?" she asked.
"Yes, of course. But I want you to come with me," I responded.
We went to the room and Scott was sitting up in bed. He was uncomfortable at first when an Orthodox priest walked into his room, but in due course he began to relax. We started to talk. We talked a long time, over an hour I think. At the end I asked him if he wanted me to pray for him and he said yes.
Something good had been accomplished although I am not always certain what it is. God knows though.
After that visit I went to see how my parishioner was doing. The surgery went very well and the prognosis for recovery excellent.
Saturday's experience shows how directly the Lord can lead us. And his clear directives are not only reserved for priests. Do you have the sense you should call or visit a friend? Do it. Every see someone and have the sense you should talk to him? Do it. Does someone you know need support or encouragement? Do it.
There are people in this world who need the help that only you can give.