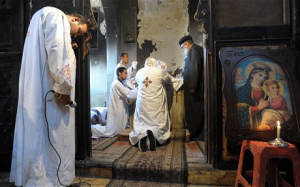 Source: The Telegraph
A priest whose church was at the centre of sectarian riots at the weekend has said Egyptian Christians were "under organised attack" as religious authorities warned the country was at risk of civil war.
Armed troops and riot police guarded the streets around St Mena's church and nearby burned-out shops and apartment blocks in the impoverished, crumbling Cairo suburb of Imbaba.
Inside, Father Cherubim Awad said a conspiracy was the only possible explanation for the violence that had engulfed relations between Christians and Muslims in recent weeks.
"Five churches were attacked on the same night," he said. "From the beginning of this year we have had all these attacks in a short space of time.
"There is some hidden hand behind this, whether from inside the country or outside it."
The street battles, which began on Saturday evening outside his church, demonstrated the breakdown in law and order in parts of Egypt that began during the uprising that overthrew President Hosni Mubarak in February.
Read the entire article on the Telegraph website.