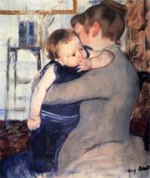 Source: Православие.Ru
The Russian Orthodox Church will provide financial aide to women who had decided to abort their infants due to material need. The chairman of the Synodal information department of the Moscow Patriarchate, Vladimir Legoida, announced this intention on the program "A Holy Place" over "Komsomolskaya Pravda Radio."
"Based upon its experienced—and this has all been worked out in sweat and blood—the Church is prepared to pay money so that they [women in serious financial straits] would not kill their children. We will find the money," Legoida said.
Vladimir Legoida reminded his listeners that Patriarch Kirill of Moscow and All Russia directed proposals to the government in January of this year to improve the national politics in the sphere of family and childhood care, one of which would forbid government funding of abortion. The Document also proposes that "doctors' initiatives" to terminate pregnancy be outlawed. The proposals also underline the necessity to inform patients about the negative consequences and risks of abortions. Women who have already agreed to have an abortion are recommended to take a two-week break before making their final decision. They can use the services of a psychologist and priest in special centers for crisis pregnancy.
"We are insisting that these measures be put into practice as a whole," Legoida emphasized.
Synodal Information Department of the Moscow Patriarchate