Although it is history now, the Divine Liturgy held in Moscow on May 24 f by Pat. Kirill and Pat. Bartholomew included a representative of the OCA as a co-celebrant. This is clearly an affirmation of the canonical legitimacy of the OCA and Abp. Demetrios was entirely correct in inviting the OCA to the Episcopal Assembly. The autocephaly of the OCA is the real issue, not canonical legitimacy.
+++++++++++++++
HT: Orthodox News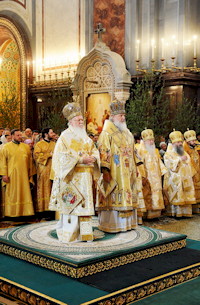 MOSCOW, RUSSIA [OCA/St. Catherine Church] — On Monday, May 24, 2010, the Feast of the Holy Spirit, which coincided this year with the Feast of the Holy Equal to the Apostles Saints Cyril and Methodius, was marked with the concelebration of the Divine Liturgy at Moscow's Christ the Saviour Cathedral by His All Holiness, Bartholomew, Archbishop of Constantinople, New Rome and Ecumenical Patriarch, and His Holiness, Patriarch Kirill of Moscow and All Russia, who was celebrating his namesday.
Concelebrating with the Primates of the Churches of Constantinople and Moscow were the Moscow Representatives of the Patriarchates of Alexandria (His Eminence, Metropolitan Athanasius of Kirinis); Antioch (His Eminence, Archbishop Niphon of Filipopolsk); Jerusalem (Archimandrite Stephanos); Serbia (His Grace, Bishop Antony of Moravich); and the Autocephalous Orthodox Churches of the Czech Lands and Slovakia (Archpriest Alexei Yuschenko) and America (Archimandrite Zacchaeus).
Other hierarchs concelebrating with the Patriarchs of Constantinople and Moscow included the members of the official delegation of the Patriarchate of Constantinople visiting the Russian Orthodox Church — His Eminence, Metropolitan Michael of Austria; His Eminence, Metropoltian Irineus of Myriofytos and Peristasis; His Eminence, Metropolitan Emmanuel of France. Also concelebrating were the Permanent Members of the Holy Synod of the Russian Orthodox Church — His Eminence, Metropolitan Philaret of Minsk and Slutsk and Patriarchal Exarch to Belarus; His Eminence, Metropolitan Juvenaly of Krutitsk and Kolomna; His Eminence, Metropolitan Varsonufy of Saransk and Mordovia and Chancellor of the Russian Orthodox Church; His Eminence, Metropolitan Hilarion of Volokolamsk and Chairman of the Department of External Church Relations of the Moscow Patriarchate; and other hierarchs of the Russian Orthodox Church. Leading the concelebrating clergy in the priestly rank was Archimandrite Elpidophoros, the Chief Secretary of the Holy and Sacred Synod of the Ecumenical Patriarchate.
Following the Divine Liturgy, the Patriarchs and the concelebrating hierarchs and clergy processed from Christ the Saviour Cathedral to the court in front of Saint Basil's Cathedral on Red Square, for the official opening ceremony of the "Days of Slavonic Literature and Culture," which for the first time in history was being observed as a Federal Holiday by the signing of the decree by Russian President Dmitry A. Medvedev.
For a full report and photo galleries of the historic event, visit the web site of Saint Catherine OCA Representation Church in Moscow.