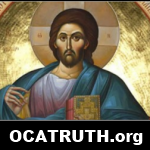 Jesse S. Cone provides a compelling critique below of Fr. Leonid Kishkovsky's signing of Jim Wallis' "Circle of Protection" proclamation. The document was crafted by Wallis and signed mostly by left-leaning Christians ostensibly to protect the poor from draconian budget cuts.
Wallis is a 1960's style liberal who still believes that government has the resources and tools to eradicate vexing social problems like poverty, poor education and so forth. He never takes into account how the government inflow of money into poorer areas exacerbated the decline of the nuclear family (in the 1950's 70% of Black children in Harlem lived in intact two parent families, a trend that was increasing; 10 years after the Great Society that number dropped to 30%), contributed to the collapse of public education (the worst performing schools in America are in the inner cites of Democratically controlled cities) and created generational dependence on government welfare.
There's a difference between supporting government programs that ostensibly care for the poor and actually doing constructive work for the poor. This distinction is hard for many people to make because "Christian Progressives" like Wallis appropriate the lexicon of the Christian moral tradition to lend moral weight to Progressive ideology. No one wants to be accused of selfishness but the Progressives argue you are selfish if you criticize their agenda.
By signing the document Fr. Kishkovsky added his voice to the chorus and aligned the Orthodox Church in America (OCA) with Wallis' Progressive ideology. Is he equating Orthodox moral teaching with Progressive ideology? It sure looks like it.
Economic laws are like physical laws. You can cheat them for a time but in the end they always win out. Accrue debt and sooner or later you have to pay it back. Accrue too much debt and in the end the borrower owns you. America is perilously close to default and the nations who lent us the money (primarily China although many other nations) are more alarmed than many in Washington seem to be. They haven't forgotten elementary economics.
For example, take a look at China's (China!) two warnings to America last week (here and here). It's not pleasant being reproached by China but who can argue with the reproach?
Progessivism is failing morally and fiscally as anyone who is not intimidated by the strident exhortations coming from Progressivist quarters already knows. Fr. Kishkovsky needs to examine the Wallis world view with greater sobriety. A lesson in economics wouldn't hurt either.
Cone also mentions an organization I had a hand in organizing and am presently involved with called Christians for a Sustainable Economy (CASE). We agree with Wallis that budgets have a moral component but we believe encumbering the next generation with our debt is immoral. We do not believe that the Progressive vision is morally justifiable or economically sustainable.
One minor correction. CASE believes that government has a role in funding the social safety net. We also embrace the counsel of F. A. Hayek who cautioned that the transition from welfare dependency to a model of personal responsibility must be handled with great prudence and deliberation. Nevertheless, events are going to force these transitions upon us as last week's budget imbroglio made clear. We need to do it well. Jesse S. Cone's essay follows.
Source: OCATruth | August 3, 2o11 |By Jesse S. Cone
Amid heightened concerns that factions in the OCA want to follow in the footsteps of The Episcopal Church by catering to social trends, Fr. Leonid Kishkovsky, the OCA's Director of External Affairs and Interchurch Relations, put his name and the OCA's alongside The Episcopal Church USA's Presiding Bishop, Katherine Schori, on the Circle of Protection. The Circle of Protection is an ecumenical statement attempting to support governmental social programs whose funding is being threatened by the current debt crisis. It is supported by the National Council of Churches, and receives a large part of its funding by the leftist billionaire George Soros. You can see Fr. Leonid's name under that of the General Secretary of the NCC, Michael Kinnamon.
The Circle says that,
As Christians, we believe the moral measure of the debate is how the most poor and vulnerable people fare. We look at every budget proposal from the bottom up—how it treats those Jesus called "the least of these" (Matthew 25:45). They do not have powerful lobbies, but they have the most compelling claim on our consciences and common resources. The Christian community has an obligation to help them be heard, to join with others to insist that programs that serve the most vulnerable in our nation and around the world are protected.
There is no disagreement among Christians that we should minister to the poor and needy, though there is plenty of disagreement about the Circle and Church's role in the governmental programs it is supporting. On the basic level it is an issue of who should actually be doing the ministering: individual and organizations of Christians directly, or intermediaries; in this case the government. Should it be the Church that ministers to the fatherless and the widows, or should the Church support ministering programs? While these questions are not simply either/or, the polarities — and the consequent tensions – are real. Nevertheless it is ironic then that the Circle defends the government backed social programs they wish to protect by appealing to the signatories' own experience of ministering directly to the poor and needy.
We know from our experience serving hungry and homeless people that these programs meet basic human needs and protect the lives and dignity of the most vulnerable. We believe that God is calling us to pray, fast, give alms, and to speak out for justice.
So what justice is the Circle of Protection crying out for, and what programs are they trying to protect? Programs like SNAP (formerly food stamps), Medicaid, Head Start, CHIP, as well as general support for areas of Low-Income Education and Training, Shelter and Homelessness, Peacekeeping, and Sustainable International Development Programs. While these programs may not espouse explicitly debatable agendas, this does seem to be part and parcel with the agenda of the NCC. That agenda has definite leftist leanings, as witnessed by George Soros' contributions, which make explicit use for lobbying in Washington, especially in regards to his proposed Criminal Justice reform.
The Circle's claim that budgets "are moral documents" is disturbing to traditional Christians who consider the moral significance of supporting Medicaid. Medicaid provides some funding for abortions in almost every state. What situations allow for Medicaid funds to be used to pay for abortion varies by state, but there 17 states in the Union that have 1/3 of their abortions paid for by Medicaid.
The Metropolitan, who took heat on Mark Stokoe's website for his "unilateral" and "political" involvement in the March for Life and the Manhattan Declaration has now been outshone by Fr. Leonid. However political and right-leaning one views Metropolitan Jonah's actions, Fr. Leonid's provide a far more obvious move in the opposite direction. Acton Institute president and co-founder Fr. Robert Sirico called the Circle "hyper-political" in a piece for The National Review .
The actions of Wallis and the co-signers of the Circle of Protection are only understandable in light of political, not primarily religious, aims. Wallis, after all, has been serving as self-appointed chaplain to the Democratic National Committee and recently met with administration officials to help them craft faith-friendly talking points for the 2012 election. And when Wallis emerged from that White House meeting, he crowed that "almost every pulpit in America is linked to the Circle of Protection … so it would be a powerful thing if our pulpits could be linked to the bully pulpit here."

Think about that for a moment. Imagine if a pastor had emerged from a meeting with President George W. Bush and made the same statement. I can just imagine the howls of "Theocracy!" and "Christian dominionism!" that would echo from the mobs of Birkenstock-shod, tie-dyed, and graying church activists who would immediately assemble at the White House fence to protest such a blurring of Church and State.
Once again it seems that the criticisms don't always cut both ways, and not just in Washington but also in Syosset. This is not to say that the Circle's statement that "budgets are moral documents" is without merit. Christians who share that view but do not support the financial stances of the Circle have formed a response to the Circle, Christians for a Sustainable Economy (CASE). Orthodox priest Fr. Hans Jacobse played a role in CASE's creation, and he reports on CASE and offers a critique of the Circle of Protection uber-supporter Jim Wallis and his liberal Sojourners group. It appears that the budget morality the Circle espouses is not Orthodox, and may in fact be at odds with the Faith.
Regardless of where one stands politically – whether you are incensed by this or not — it is the case that Fr. Leonid's signature on the Circle of Protection is a political action, and one he is taking for the OCA. Some members of the OCA were shocked to hear of Fr. Leonid's action, though it is not yet known whether the Metropolitan or the Acting Chancellor were consulted or apprised of his action before it appeared publicly. It is doubtful he received such a blessing, considering his strong disagreement with the OCA's involvement with the Manhattan Declaration. Indeed, the OCA's very involvement with the NCC and the WCC is questionable, considering the Antiochians withdrawal from both bodies back in 2005.
Interestingly enough, the trigger for the Antiochian's withdrawal was a controversy that's recently been the subject of much talk in the OCA of recent. From the 2005 article,
Reasons given for the withdrawal include the general liberalism of the NCC, whose General Secretary, Bob Edgar, withdrew his signature from a statement defining marriage as being between a man and a woman.
While I appreciate Fr. Leonid's position in the OCA, I am curious to see how his participation profits the OCA's relationships with the other Orthodox jurisdictions. It seems hard to believe that the Mother Churches are smiling blithely at what can easily be described as a unilateral political move in opposition to the Metropolitan's public endorsements of traditional morality. I cannot state whether Fr. Leonid's act was a conscious push-back against the Metropolitan, but the act is certainly a move in the opposite direction — and a move that is ostensibly without support. Those who lauded the Metropolitan's involvement in the March for Life and Manhattan Declaration have already voiced their opposition to this progressive agenda, and those critical of the Metropolitan have called for non-involvement in such political hot-button affairs. Fr. Leonid's actions do not correspond to either demographic.
I don't believe, nor have I ever heard that the Office of External Affairs and Interchurch Relations exists to make statements about the federal budget and government programs. A case could be made for it, and I would look forward to being persuaded should the Holy Synod of bishops decide to present such a case. Till then, Fr. Leonid's volunteering the OCA for such a tendentious initiative — especially considering our the current context – can be seen as an ill advised personal political endorsement at best; or a not-so-subtle act of rebellion against Metropolitan Jonah at worst.
Our reputation in the Orthodox world has suffered enough during the past year to keep Fr. Leonid busy, why add to the perception of the OCA's establishment being a fractured group of in-fighters? One hopes our relationship within the Orthodox community matters more to us in the OCA than our status in the National Council of Churches.