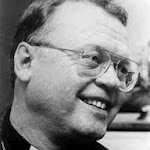 – I first met Fr. Peter when he stayed with my wife and myself during a speaking engagement he had in Minneapolis, Minnesota. He sure was a gracious guest and he also loved sports. He relaxed in our living room watching a football game as I recall. It was a great visit. I had converted to the Orthodox Church a few years earlier and watched with great interest the conversion of the former Campus Crusaders because it mirrored my own journey in ways. Seeing such a large group come in made it a bit easier actually.
Throughout the years we keep in touch here and there. He was a real people-person as we say, and it was authentic and genuine. The man knew Christ, loved Christ, and it always showed by his graciousness towards me, my family, and the other people I would see him interact with in different settings and occasions. That is what I remember about Fr. Peter the most, his gregarious and generous spirit. We have lost a good man.

For more information go to All Saints Orthodox Church.
Archpriest Peter Gillquist, longtime pastor of All Saints Orthodox Church in Bloomington, Indiana and prominent American convert to Orthodox Christianity, died on Sunday, July 1, 2012 after a long battle with metastatic melanoma cancer.
In the 1960s, when Fr. Peter was on staff with the Evangelical parachurch organization Campus Crusade for Christ, he and some friends began to search for the apostolic, historic Christian Church. Under their leadership, a large number of evangelical congregations united as the Evangelical Orthodox Church. Almost twenty years later, in 1987, the EOC was received into the Orthodox Church by the Antiochian Orthodox Church of North America. Fr. Peter recorded this story in his book, "Becoming Orthodox".
In the 1960s Fr. Peter was a senior editor with Thomas Nelson Publishing. He later helped found Conciliar press, and was its chairman for many years. He served as project director for the Orthodox Study Bible project. Conciliar press published a number of his books, which in addition to "Becoming Orthodox" included "Let's Quit Fighting over the Holy Spirit", "The Physical Side of Being Spiritual", "Love is Now", and "Why We Haven't Changed the World".
Memory eternal!